Wire Art and Custom Jewelry
Unique Items created by Mario Stefanovic
Wire Bicycle
This wonderful bicycle is made from a single piece of wire! It's only 2" high and 3" long. It's a unique gift for the cyclist in your life.




Bicycle Made with 14k Gold Filled Round Wire
Bicycle .... $44.95
---
Other Items
Call for pricing and details 847 312-2439
---

Wire Sailboat Pin and Gymnast (My daughter is a gymnast)


---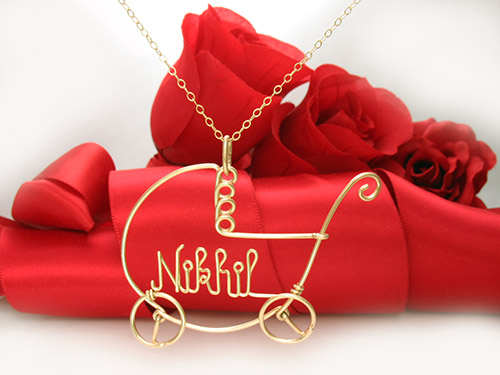 Show everyone how much your Baby Boy or Baby Girl mean to you by wearing charming and unique necklace.
The Stroller Pendant with Baby Name in it, size 1 3/4" x 1 1/4".
This handmade pendant is truly irresistibly and unforgettable personalized gift.
Baby Name Stroller Pendant with Necklace .... $48.95

---
Wire "Blue Dove"
Pablo Picasso's beautiful line-drawing of the dove

Square Mother of Pearl Pendant size 2" x 2"
Blue Dove - MOP Pendant .... $38.95 >
---
Blue Dove of Peace
Pablo Picasso's the Blue Dove in Gold-filled wire
with Blue Eye - Sapphire Swarovski crystal and Black Onyx Pendant
The Dove is made only with one piece of continued wire, hand-twisted with small pliers. The wire is 14k gold-filled or 925 Argentium® sterling silver. No solder or glue is used.

Square Black Onyx Pendant size 2" x 2"

Blue Dove - Onyx Pendant (choker not included).... $54.95
---
Blue Dove without Mother of Pearl (choker not included)... $34.95
......> To add the Choker or other items,
click here
Handmade Picasso's "Blue Dove" pendant, size 2" x 1.5" _One piece continuous wire, no glue or soldering hes been used.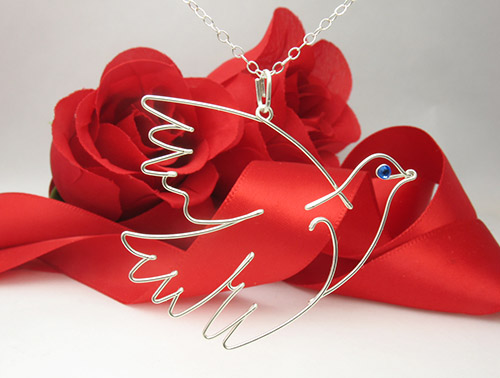 ---
---
Pablo Picasso's "Dove of Peace"

Pablo Picasso used doves to symbolize peace. His painting of a single dove became famous all over the world when it was used on a poster in 1949. The poster was for the World Peace Congress in Paris.
'Dove of Peace' without Mother of Pearl (choker not included)... $34.95
......> To add the Choker or other items, click here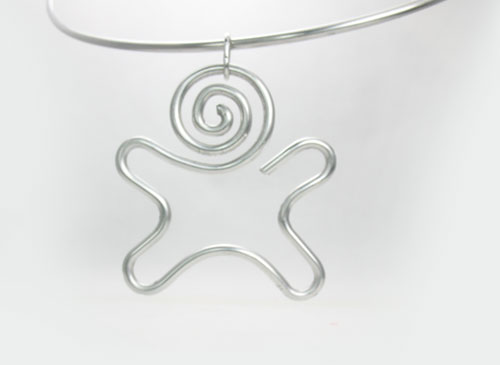 Little Guy silver Pendant, 2 x 2 inches.... $32.95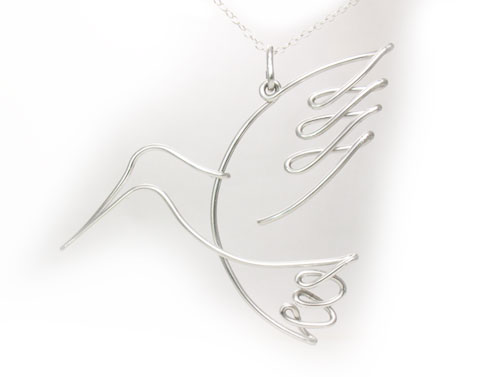 Hummingbird Pendant, 2 x 2 inches.... $33.95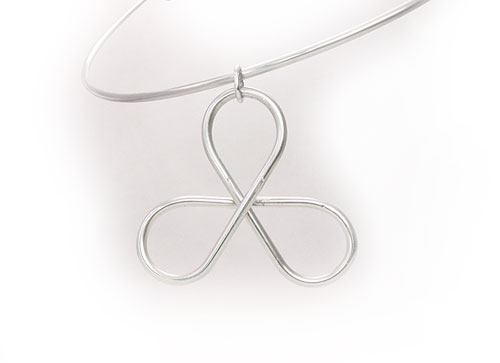 Shamrock Clover Pendant, 2 x 1.75 inches.... $32.95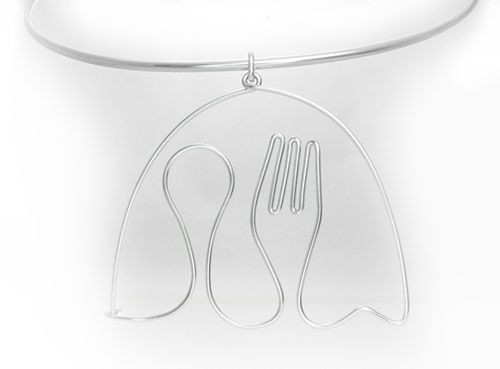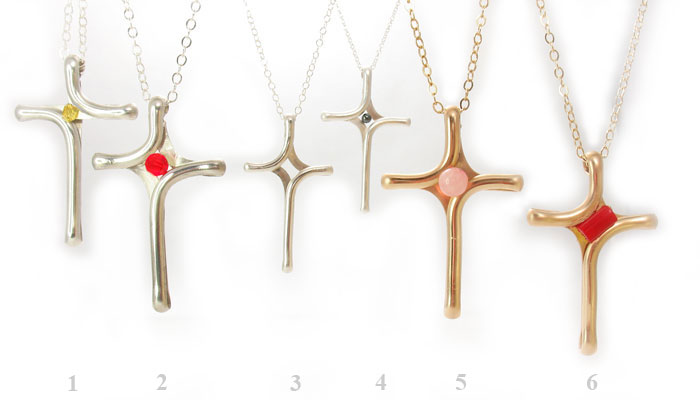 ---

Saxopohone Necklace Runner Necklace
Chain and Pendant <!1---->
Sax or Runner with chain.... $12.95


<!3---->
---
Custom Retirement Gift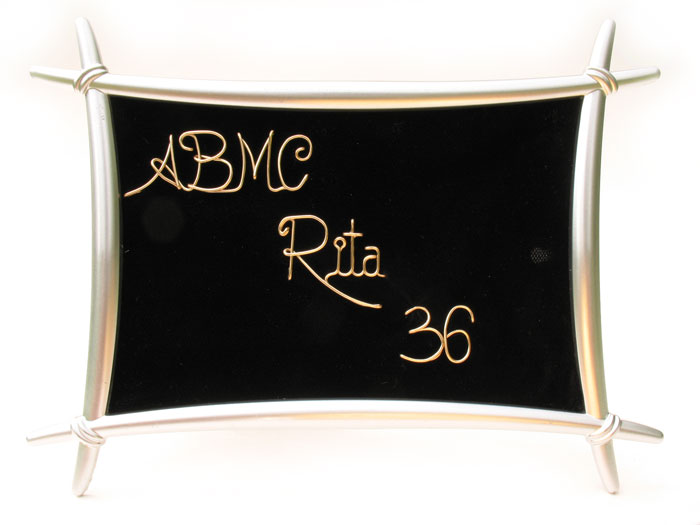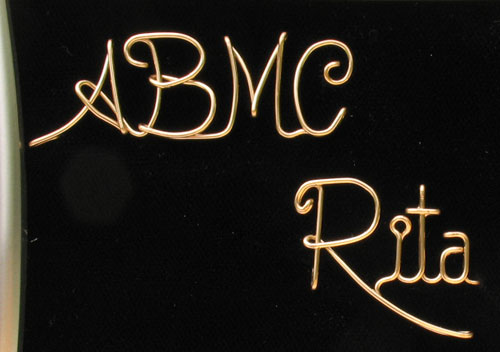 Thick 18 gauge gold-filled wire on dark blue velvet fabric and 4 x 6 inches picture frame. Look so much better in real than in picture.



Custom Wire Name Birthday Card
Have a custom birthday or wedding invitation made- or deliver your personalized name gift as part of a greeting card!

---
'Sun/moon/star pendant' (choker not included) ... $38.95
Custom Name Jewelry
We can add special designs and custom beads and other decorations to your name jewelry- call or e-mail us with your needs.

---
---
---
Two doves with olive leaf held in beaks. The olive leafs represent two sons. The 20 dots in a swirl pattern mowing outward represent 20 years.
Two Doves sculpture is crafted in platinum wire for the platinum 20th wedding anninersary gift.
---
---
Pendant Two doves with olive leaf held in beaks.

Two Doves Pendant with Necklace .... $74.95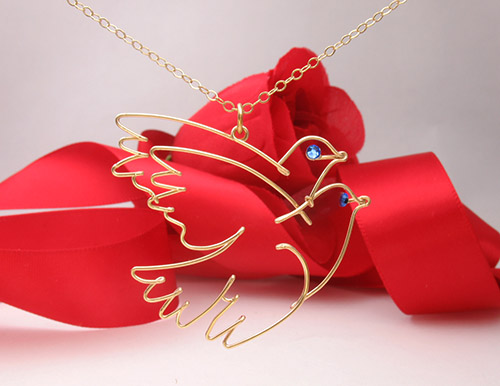 ...

---
---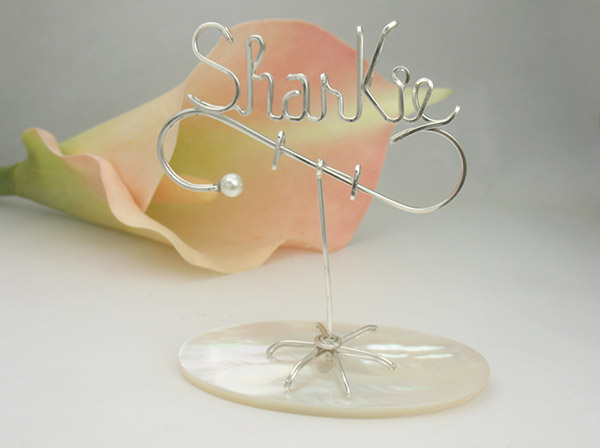 Statue of SharKie with MOP base
---
---
This exquisite one of a kind handmade choker is crafted from high quality 16 gauge solid Sterling Silver in an unusual barb wire design

Sterling Silver 16 gauge Barb Wire Choker.... $47.95
---
---
---
The choker will personally construct for you in the Custom Length with Hook clasp that allows easy hang your pendant and easy closing. You can add a Pendant for more dramatic effect. Looks very elegant on a Turtle Neck. Can be worn with heavier pendants, or without pendant.
These neckwires are perfect for setting off a special pendants.
When you purchase one of these choker designs, you will be wearing your own unique piece of Wire Name Jewelry. Best of all, there is NO EXTRA CHARGE for this one of a kind customer service!
What Customers Say About Wire Name Jewelry
(More Testimonials)
Mario!

I can't thank you enough for the beautiful necklace. You do such beautiful work, and I've never seen anything so delicate. It was a gift to a friend, and it looks beautiful on her. I intend to recommend you to EVERYONE!

Thanks!
Cyndi
---
Mario:
Today, I received the two beautiful necklaces that I recently ordered from you. I am so very pleased with your awesome work ! You truly possess a rare gift of creation !! Thank you so very much !

I will be placing another order soon, and I will be recommending you to all my friends ! May God richly bless you and your family.

-Jane Neal.
---
Hello Mario-

I received my "Connie" name necklace today. I LOVE IT!!!
It is even prettier than I expected from the online photos.

You are quite an artist. Just wanted to let you know how impressed I am with your work and how happy I am to have it. Yes, I will gladly tell everyone about your lovely jewelry. I work with a bunch of "jewelry hounds", so I'm sure they'll be asking where I got it! My niece graduates in May, so I might be ordering one for her soon. Thanks again for a beautiful piece.

Connie
---
(Read More Testimonials)