<!1----go to 42,43,44> 14K Gold Pin and Pendant Combo
Pin and Pendant Combo in Sterling Silver-Not Tarnish <!1---->

<!2----> This beautiful pin has the name or word of your choice set in a versatile setting of 14K gold wire or Sterling Silver Not Tarnish wire.

This unique design allows to wear the pendant on a chain as a necklace or as a pin using the flower stick pin. Both the chain and the flower pin are included in the purchase price. The heart at the end of the name is optional.
The Pin and Pendant Combo makes a wonderful gift for any occasion. <!2---->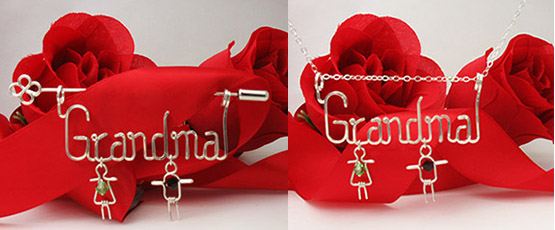 ---
<!3 order ---->

---
Pin/Pendant Combo .... $54.95
Pin/Pendant Combo - Two Names/Words.... $58.95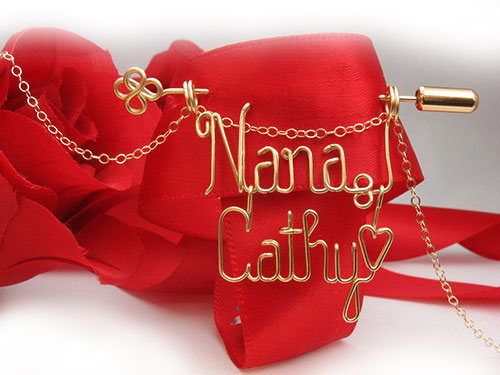 What Customers Say About Wire Name Jewelry
(More Testimonials)
Hi,

Just wanted to let you know that the necklaces arrived today. Thank You so much. Hopefully you have received the check I sent. If not, I am sure it will be there any day.

I may get more orders for you. One of the necklaces will be given as a gift to the instructor of our Clogging Team on Monday. When the other dancers see it, they may want to order one.

I have been wearing mine. The one I ordered first. I constantly get comments about it. Everybody loves it.

The third one is for my daughters Birthday this month. She saw mine and loved it. Thank You again.

Carol Littrell
---
Mario:
Today, I received the two beautiful necklaces that I recently ordered from you. I am so very pleased with your awesome work ! You truly possess a rare gift of creation !! Thank you so very much !

I will be placing another order soon, and I will be recommending you to all my friends ! May God richly bless you and your family.

-Jane Neal.
---
Mario,
Thank you so much. The name necklace is just beautiful. Thank you also for adding the birthstone. When I tried to add it on the order sheet, I kept getting an error to enter it, which I did over and over again.

My daughter will LOVE IT!!!! She will be 12 on Saturday. Thank you so much for the fast shipment also. I was cutting it close (my fault).
Sincerely,Renee Gehrke
---
(Read More Testimonials)