Mother of Pearl Brooch
This lovely hand-crafted, personalized brooch is made with opalescent sheen, natural mother of pearl. Perfect for birthday, bridal shower take home gift, mother's day, Christmas, etc. It makes a breathtaking gift for all ages.


The setting of this exotic brooch is made from real mother of pearl so each design is unique in pattern. The oval shell size is 1.57" x 1.18", • 1.96" x 1.18" or 2.26" x 1.18" (40mm x 30mm, • 50mm x 30mm , or 60mm x 30mm). The name supplied will be securely attached to the mother of pearl.


The name on the personalized brooch can be made from either stunning sterling silver or gold-filled wire. The brooch is attached to clothing via a strong magnetic bar*. They are strong enough to hold through a suit jacket. This will ensure not only a strong hold to the clothing, but will also prevent any damage that normally accompanies traditional pins which put unsightly holes and rips in apparel.


Single Name - Mother of Pearl Brooch with magnet .... $42.95
Multiple Names up to 13 letters - Mother of Pearl Brooch with magnet .... $51.95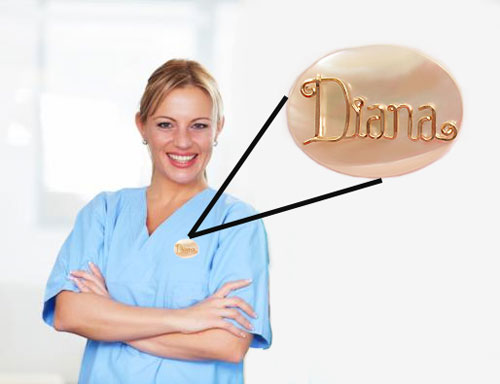 Mother of Pearl name tag for nurse/doctor uniform


MOP Combo Pendant/Brooch

This unique design allows to wear the Pendant on a your chain/choker as a necklace or as a Brooch using strong magnet fastener.
The Wire Choker is not included in the purchase price.
Additional cost +$9.90 for MOP Combo Pendant/ Brooch-with magnet fastener, select option in drop-down "Jewelry Gift Box" at Buy-Now page